posted by Jürgen Kurtz, Justus Liebig University (JLU) Giessen, Germany
Upcoming, large scale international conference at Ludwigs-Maximilians- Universität (LMU) Munich, Germany in March 2019: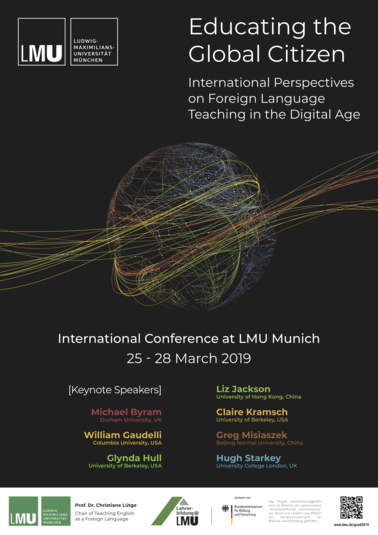 Scope of the conference:
In times of rapid and unprecedented global sociocultural change, urgent calls are being made for salient educational responses to current global and digital challenges. Such calls are being met in (re)formulations of global (citizenship) education, sustainability education, and service learning, which endeavor to promote a democratic and human rights culture in schools and the larger community.
Foreign language education is increasingly responding to these developments by updating and transforming FL pedagogies. In support of this nascent trajectory, this conference will engage with the epistemological and critical foundations of educating future global citizens across varied contexts. Accordingly, its aim is to explore citizenship and sustainability education from a wide range of perspectives, also interdisciplinary in scope, as regards developing theories, research and practice in FL education. The conference will also focus on how global education performs on a local level as well as in increasingly interconnected environments, and how digital settings, practices and methodologies are consequently implicated.
Confirmed Keynote Speakers (in alphabetical order):
Michael Byram, Durham University, UK & Université de Luxembourg, Lux.
William Gaudelli, Columbia University, USA
Glynda Hull, University of Berkeley, USA
Liz Jackson, University of Hong Kong, China
Claire Kramsch, University of Berkeley, USA
Greg Misiaszek, Beijing Normal University, China
Hugh Starkey, University College London, England
For further information, please click here
My personal contribution (paper presentation) to this event:
Neoliberal Narratives of Threat and the Recalibration of Language Teacher Identity – Fabricating Useful Multilinguals for an Expanding Global Economy?
Over the past twenty years, German governments have implemented a series of neoliberal policies designed to reshape the educational landscape and the character of schooling in this country. The proposed talk problematizes how neoliberal narratives of perceived threat (to economic prosperity, global economic strength and growth in particular) and the post‐PISA logic of regulated deregulation (through competency‐based standards and outcome‐oriented curricular frameworks) are beginning to affect language teachers' professional status, autonomy and motivation. Based on recent scholarly work on neoliberalism and language education worldwide, particular attention will be given to the following questions:
1) How do EFL teachers in Germany actually perceive and respond to the key ideas of neoliberalism in foreign language education (i.e. performativity, measurability, comparability, competitiveness, accountability, surveillance and compliance)?
2) More specifically, what empirical evidence is currently available indicating how EFL teachers in Germany experience and cope with the potential tensions that (may) arise from 'fabricating' useful and employable multilinguals for the international job market vs. cultivating inter‐ and/or transculturally informed, emancipatory and participatory citizenship as envisaged in the academic
discussion?
3) In view of the discrepancies between theorizing intercultural citizenship and developing it under the current neoliberal regime in praxis, what alternatives to viewing EFL teachers as political agents enacting neoliberal political and, more specifically, curricular agendas are conceivable and, perhaps, necessary?
Due to the paucity of empirical research in this area, this talk will raise more questions than it can possibly answer or hope to resolve. Nevertheless, it is of great importance to address the conflicting, and somehow paradoxical conceptualizations and values underlying culture‐sensitive approaches to
learning and teaching in EFL classrooms in Germany (and, perhaps, in other language learning scenarios in other countries) today.